Healthy snacks are becoming more popular. How can manufacturers improve sales?
This year, more and more people want to live a healthy life and refuse from not really useful product. The healthy snacks such as granola bars, dried fruits, vegetables or meat snacks have become popular in 2016-2017 years. What can manufacturers and marketers do to increase the sales of the healthy snacks?
Promote a lifestyle, not a product: people buy better version of themselves. Don't focus on a product's features, focus on how customer will feel when he or she will buy your product.
Collaborate with cafè and coffee shops — their clients are often in hurry and they will appreciate if they'll have an opportunity to quickly buy something tasty.
Segment your audience: there are always students who don't have time to cook a decent meal, there are travelers who couldn't eat on the flight, there are hitchhikers, office workers, people on diets, etc. Each of these groups has its pains that could be addressed.
Make your product attractive, appealing, create a special aesthetics for your brand. Don't try to imitate other snacks, create your own vision of packaging.
Don't try to push on morals or to educate: people won't follow "eat these cause these are healthy" messages, because they're too generic and boring.

According to the Polaris Market Research, the healthy snack market will continue to rise: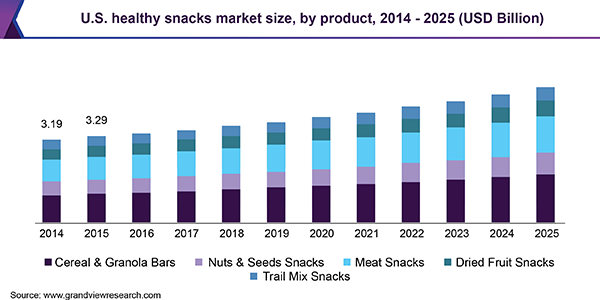 The granola bars will have the easier growth path — and the meat snacks, on the contrary, will struggle the most, due to regulations that will force manufacturer to raise the product price.
But you shouldn't give up: mindful positioning of your product in a shop, aesthetics, nice reviews, and advertising that promotes the actual value of your product will help you win :)